Convert MP4, MPG, AVI, MOV, WMV To MP3 Audio Format!

MP4 To MP3 Converter Pop Conversion
MP4 To MP3
Convert Now!
FLV To MP3
Convert Now!
MPG To MP3
Convert Now!
WMV To MP3
Convert Now!
WAV To MP3
Convert Now!
MP3 To WMA
Convert Now!
MP3 To WAV
Convert Now!
MP4 Player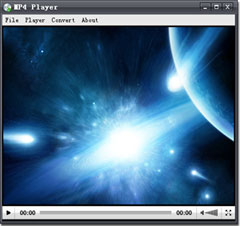 Recently We found many users do not want convert MP4 to MP3 only, sometimes they want to keep the videos and watch them on their PC.

MP4 Player is designed for users who want to play MP4 and FLV videos downloaded from YouTube on their PC. MP4 Player is a free handy windows app, and its installer file size is only 738KB. The portable version is much smaller - 363KB. Download Portable Version


How To Use MP4 Player: Simply drag the MP4 or FLV videos onto the player, it will start playing immediately.
MP4 Player Features
1 - Play MP4 and FLV format video
2 - Play MP3 music
3 - Play Apple AAC Audio

What is MP4 Format?
MP4 (MPEG-4 Part 14) is a multimedia container format. Usually MP4 is a H264 video format used by popular video sites like YouTube, Vimeo and YouKu etc. Few MP4 files stored audio stream only.